(English below)
Tusen takk til alle dere som kom med navneforslag til min nye elektriske scooter! Det tikket inn mange morsomme og kreative forslag som kommentarer både i bloggen og via Facebook/Messenger, og noen ringte til og med. Det har vært en uhøytidelig og kjempeartig prosess ! Her er link til blogginnlegget hvor jeg lovte dere heder og ære: Har du et navneforslag?
Dette er ei liste over navneforslagene, med navn på forslagsstillerene i parantes:
Albert (https://bunnytrash.blogg.no/
Elvira (https://frodith.blogg.no/)
Bob Marley (Tove)
Elvira (https://happy.blogg.no/)
Elvira, Farvel/Farewell, Rambo (Beate)
TURid (Grete)
Elvin (Ella)
Ella (Ann Elisabeth)
Priscilla (Maj Elin)
Renault Zoe (Geir)
Karion (Kristin)
Elvira/Elvirra (Gunn Åse)
Trøffel (Astrid Elisabeth)
Car'i (Marit)
Bob'en (Tove Noppa)
El-ME-r (Line)
Mitt favoritsyskenbarn (Alf-Ole)
E.T. (Mary)
Peder (Peder)
La Tortuga (Bjørn)
Det var mange kule forslag, synes du ikke? Scooteren kunne sikkert fått både fornavn, mellomnavn og etternavn, slik at jeg kunne brukt flere av dem, for det var mange ELektriske, beskrivende, passende og MEningsfulle navn. Men det vil jo uansett bare være ett som blir brukt til daglig.
Valget falt på Elvira, og Elvira fikk navnet sitt i solgangsbrisen i Ranheimsfjæra. Jeg vurderte "dåp" i noen dråper sjøvann, men det virket bare teit og upassende. Det ble mye mer riktig og stemningsfullt med et navn som kom susende inn med solgangsbrisen mens hun kjørte i Tortuga-fart langs Ladestien. Lyset og fargene på himmelen denne kvelden var spesielt fine, og enda flottere ble det etter at vi kom hjem.
Elvira er et navn som kommer fra spansk, men har eldre bakgrunn i gotisk språk. Betydning er visstnok ukjent, men første del kan forklares med glede eller spyd, andre del med sannhet eller forsvarer. Det kan jeg leve med. 🙂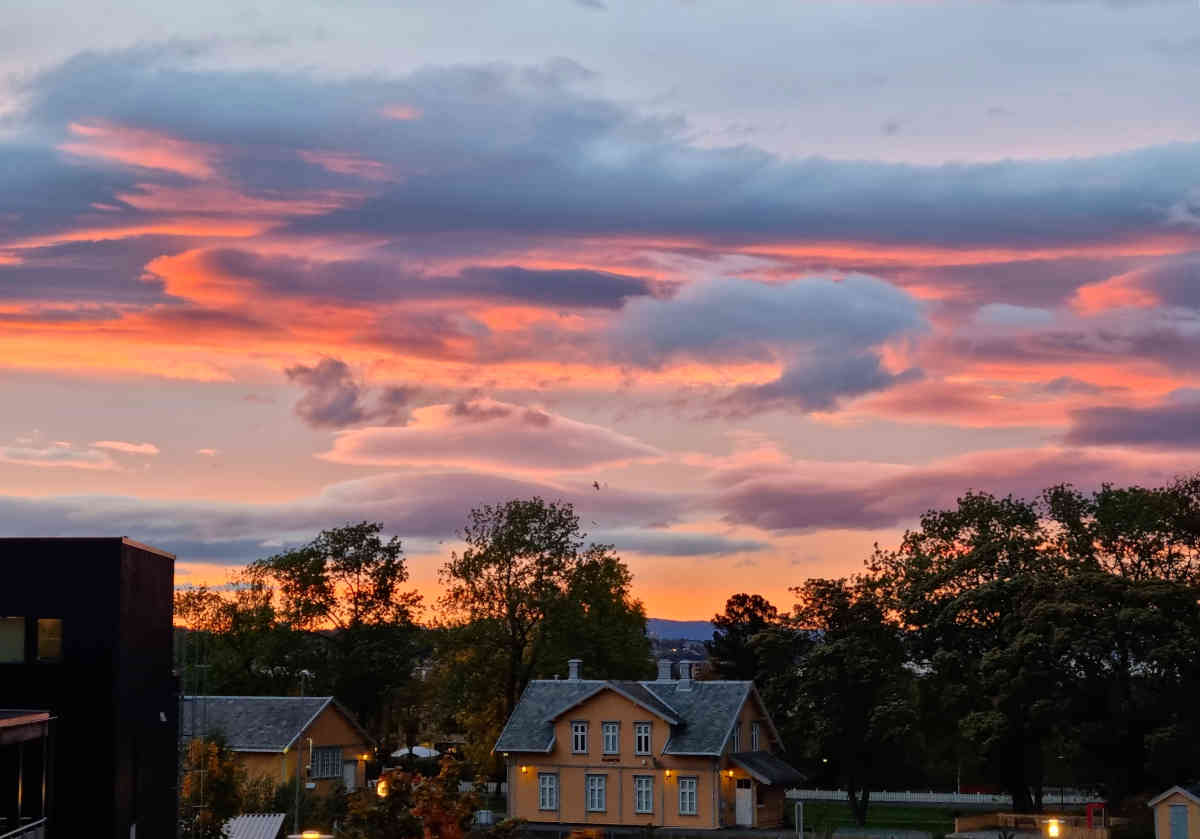 English:
A big thank you to all of you who came up with name suggestions for my new (electric) mobility scooter! There were many funny and creative suggestions given as comments both in the blog and via Facebook / Messenger, and some people even called. It has been an unpretentious and great fun process! This is a link to the blog post in which I promised you heaps of honour and glory: Do you have a name suggestion?
The list of all the name suggestions is in the Norwegian text above, with the name of the proposer in brackets.
I think there were a lot of cool suggestions. Do you agree? The scooter could probably have got a first name, a middle name as well as a surname, so that I could have made use of more names, because there were many ELectric, descriptive, appropriate and MEaningful names. Still, there will only be one name used on a daily basis anyway.
The choice fell on Elvira, and Elvira got her name in the sunwise breeze at Ranheimsfjæra. I considered a "baptism" with a few drops of seawater, but it just seemed weird and inappropriate. It felt more right and moving with a name that came blowing in with the sunset breeze as I was driving it at Tortuga speed along the path Ladestien. The light and the colours in the sky were very nice this evening, and when we had returned home the colours in the sky became even more magnificent.
Elvira is a name that comes from Spanish, but has an older background in the Gothic language. The meaning is supposedly unknown, but the first part can be explained with joy or spear, the second part with truth or defender. I can live with that. 🙂