English further down
Når jeg ringer frisøren min for å få time, er behovet gjerne akutt. Plutselig oppdager jeg at det er på tide med rydding på toppen, og da bør jeg få time ganske fort. Timen i ettermiddag var den eneste ledige å oppdrive før påske, så da må alt annet vike. Det kommer til å bli litt trøblete å komme seg dit i dag, siden jeg har fått en betennelse i hofta. Det er temmelig smertefullt og jeg måtte finne frem krykkene igjen i går.
Dagens frisørbesøk krever en del planlegging. Jeg må tenke på hvilke klær jeg skal ha på, siden de ikke må stramme og gjøre vondt i hofta. Og nå for tiden strammer de fleste klærne mine, siden det ser ut til at Ranheimslufta krymper klær mens de henger i skapet. Hm! Men jeg har ganske bra orden og oversikt over ting og tang, og med krykker på slep fikk jeg med meg det jeg trengte inn i dusjen. Jeg liker å ha nyvasket hår når jeg kommer til frisøren, siden jeg får så vondt i nakken av frisørvasker.
Krykkene avlaster for smertene i hofta. Av erfaring vet jeg at betennelsen går fortere over om jeg ikke belaster og samtidig er mest mulig i ro. Gåturen opp til garasjen er ikke lang, men kommer likevel til å bli en utfordring. Jeg har dessuten en kronisk betennelse i venstre skulder, som naturligvis blir vondere når jeg må gå med krykker. I følge legen har jeg en såkalt ganglion (senekul) ved høyre ankel, og det er vondt å ha på skotøy. Gleder meg til det blir temperaturer for å bruke sandaler igjen!
Forhåpentligvis får jeg parkert rett utenfor frisøren, slik at jeg slipper å gå så langt på krykkene. De vonde leddene i fingrene liker heller ikke krykkene så godt. Det er ille nok når jeg skal sette i et hårstrikk eller åpne et lokk, og det blir nok ikke mindre vondt å klemme i to plasthåndtak på krykkene mens jeg humper meg fremover.
Men i stedet for å fokusere på alt det vonde, prøver jeg å tenke på at jeg snart blir fin på håret, får en trivelig prat med frisør Gerd og at samboeren min lager middag til meg i kveld. Om jeg blir utmattet og må legge meg når jeg kommer hjem, vil jeg i uansett ha flere gode opplevelser som gjør dagen verdt å glede seg over! 🙂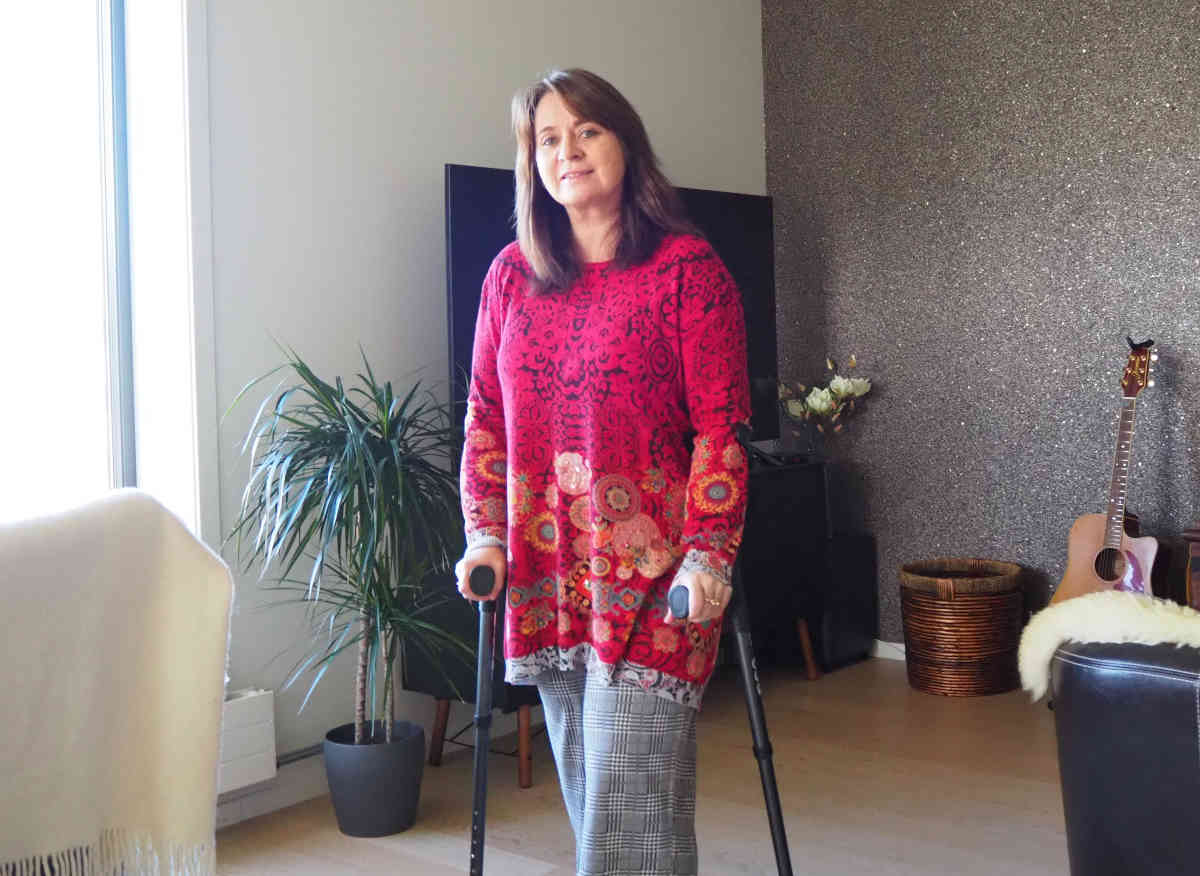 English:
Whenever I call my hairdresser to make an appointment the need to go there is usually acute. All of a sudden I discover that it's time to tidy up on my head and then I need the appointment immediately if not sooner. Today's "date" with the hairdresser was the only opportunity before Easter, so everything else is put on hold. However, it's going to be a little tricky to get there today as I have got an inflammation in my hips. It is pretty painful and yesterday I had to get my crutches out again.
Today's visit at the hairdresser requires a bit of planning. I need to think about what clothes to wear, as they shouldn't be too tight in order not to give more pains in my hips. And nowadays, most of my clothes seem to be tight-fitting. I bet it's the air in our new place to live that is shrinking clothes while they hang in the closet. Humph… Anyway, I'm a quite tidy person with a good overview over things. I keep things at hand and as I got out clean clothes to wear after the shower I was able to bring the crutches simultaneously. I like to wash my hair before I go to the hairdresser as I tend to get pains in my neck from hairdresser's sinks.
Using the crutches relieves the pains in my hips. I know from experience that the inflammation passes faster if I do not strain the hips and sit still or lie down. The walk to the garage is not long but still going to be a challenge. Besides, I have a chronic inflammation in my left shoulder, which of course is more painful when I need to walk on crutches. According to the doctor I have a so-called ganglion by my left ankle and it hurts when I need to wear shoes. I'm really looking forward to warmer temperatures and to wear sandals again!
Hopefully, there will be a parking spot right outside the hairdresser's so that I need not walk far on the crutches. The sore joints in my fingers do not like the crutches too much either. It's bad enough when I have to put a hairband in my hair or open a lid, and it's not going to be less painful to squeeze two plastic handles in my hands when I bump along on the crutches.
Nevertheless, instead of focusing on all the pain I rather prefer to think about the nice talk I am about to have with my hairdresser, that my hair will soon look nice, and that my partner will cook for me tonight, as usual. If I feel fatigued and need to go to bed when I get back home I will still have had several nice experiences which makes it worth enjoying the day! 🙂
Translation to be finished shortly